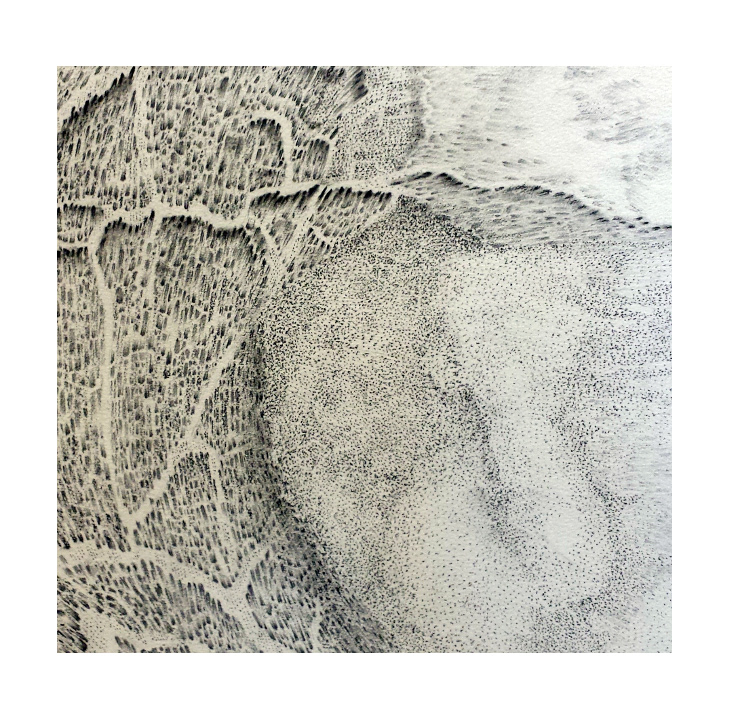 FR

« L'Infini Turbulent » *
Ces dessins font partie d'une recherche basée sur le mouvement, les forces, … du mouvement lent de la croissance d'un arbre sculpté par les vents au mouvement plus rapide des océans, régulier comme les marées, turbulent comme les vagues et la houle.
Mouvement à la fois chaotique et à la fois répété à l'infini. 
Il s'agit d'une recherche hantée par le chaos, un travail sur les forces et non limité à la recherche de la forme parfaite de la vague.
Chaos, dans le sens de surabondance de données, de la confusion générale des éléments de la matière, « bordel »  dans lequel je recherche la texture du vivant ou plutôt son équivalence artistique (ce qui m'apaise).  Les forces en jeu y ajoutent une dimension de lutte,  de batailles des éléments naturels  mais qui probablement reflètent également celles notre société et mon impuis
sance.
"Je commence à être entraîné dans une sorte de tournoyant carrousel. (…)  Eclaboussement de blanc crayeux. »

« De toutes parts fusent des sortes de sources blanches. (…)
Dans la tempête du blanc. Je dois faire quelque chose avant que ce blanc n'opère le hachage complet de ma volonté et de mes possibilités de décision. (…) Ce blanc est excessif, ce blanc m'affole, je n'y vois aucune forme. (…)
Une fois lancé, quelle résistance a ce blanc. Le blanc ne me laisse pas tranquille. Le blanc est à l'avant-plan. Le blanc pousse de tout côté. Je ne peux plus rien mettre entre le blanc et moi. »
Extraits de « L'infini Turbulent », Henri Michaux, 1957
Cette recherche sur papier  s'accompagne également d'une recherche tridimensionnelle par le dessin  3D (stylo 3D) et  le modelage et de dessin digital .
-----------------------------------------------------------------------------------------------------------------------------------

These drawings and pencils are part of a new series/research about movement, force, ...from the slow movement of  the growth of a tree shaped by the winds, to the faster movements of the ocean (  the regular ( tide) an irregular ( wave) ).

Movement ,chaotic and repeated endlessly.


This is a research haunted by chaos, a work on strengths and not limited to the search for the perfect shape of the wave.


Chaos in the sense of data glut ,  of the confusion of the elements of matter, "brothel" in which I search the texture of living or rather its artistic equivalence (which calms me). The forces involved are adding a dimension of struggle, battles of the natural elements but it probably also reflects  the battles in our society and my helplessness.