Recherche sur l'Identité / Identity research.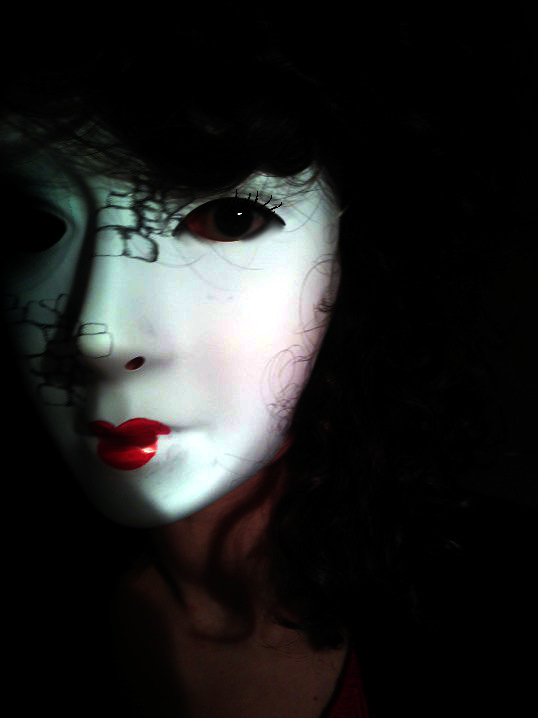 --------------------------------------------------------------------------------------------------------------------------------
FR ( EN, see below)

J'utilise ces masques et dessins ( dessins sur papier, photographie, résine, peinture, art numérique, GIF ...)  comme photographie de profile sur facebook et autres reseaux sociaux depuis plusieurs années .

Créés d'abord par jeu, ces masques se sont ancrés en moi et sont devenus ce que je vois de moi dans le miroir, l'écran étant devenu mon miroir. «  Miroir mon beau miroir, dis-moi qui est la plus belle ? … celle que tu crées … »… Quel côté du miroir ?, La Reine Mère de Blanche Neige, Alice ou Tommy* … Quel côté du masque ?, Bleach** …

Il n'y a dans mon inconscient aucune inadéquation entre la réalité et les apparences (masques).
Le masque se révèle être une transcription de mon monde surnaturel dans le monde naturel et/ou de mon monde naturel dans le monde virtuel : une iconographie de l'Invisible.
 Ce qui se voulait être d'abord une forme de protection de l'intime, un jeu  et le produit d'une vision esthétisée est devenu une projection de l'intime. Le masque n'offre pas l'invisibilité en échange de ce qu'il dissimule. Il dissimule mais offre également à voir autre chose, une apparence qui cache la réalité mais peut aussi la révéler, la sublimer et la trahir. Masque et anonymat ne sont pas synonymes.
 Cette surface énigmatique provoque le désir de ce qui est caché. La beauté visible qui s'offre est délaissée et cette présence qu'elle couvre, fascine et devient un espace magique. Une identité en perpétuelle fuite ? … Une identité en mouvement.
 Le mouvement et le dessous du masque («Inside » ou espace intérieur du masque)
 Les regards mouvants que je dessine dans les orbites de mes masques dévoile le dessous du masque, l'espace intérieur et montre que celui-ci ne peut pas être défini comme une substance, immuable, définie une fois pour toute. Cet espace est en mouvement, traversé de courants multiples, de forces, chaos.
Une identité moins unifiée qu'en mouvement … un « Infini Turbulent », ce  qui lie cette recherche à une autre série de travaux en cours dans mon atelier et qui porte ce titre d' « Infini Turbulent » ***. Une série hantée par le chaos, les forces et les éléments de la nature. Chaos, dans le sens de surabondance de données, de la confusion générale des éléments de la matière, « bordel »  dans lequel je recherche la texture du vivant ou plutôt son équivalence artistique (ce qui m'apaise).
D'où la confrontation de ces masques avec cette autre série de dessins par collage ou simple juxtaposition.
 Cette série de masques (et leur dessous ou infinis turbulents/espaces intérieurs) mise en relation avec cette série de dessin de vagues et de mouvements plus abstraits (infinis turbulents/espaces extérieurs) me font ressentir l'identité, non pas comme somme figée d'éléments mais plutôt comme dynamique parcourue par des forces, en perpétuel mouvement, une infinité de possibles.
L'espace magique que le masque cache et que je dévoile, offre de multiples lectures, potentialités, éventualités.
 Le masque qui occulte incarne en même temps la virtualité d'une vie. Il n'est plus limité à l'objet, il est un univers possible.
** « Bleach » manga japonais écrit et illustré par

Tite Kubo

dans lequel le masque a une place importante et peut prendre le dessus sur son porteur.
**inspiré du titre du roman « L'infini Turbulent » d'Henri Michaux, 1957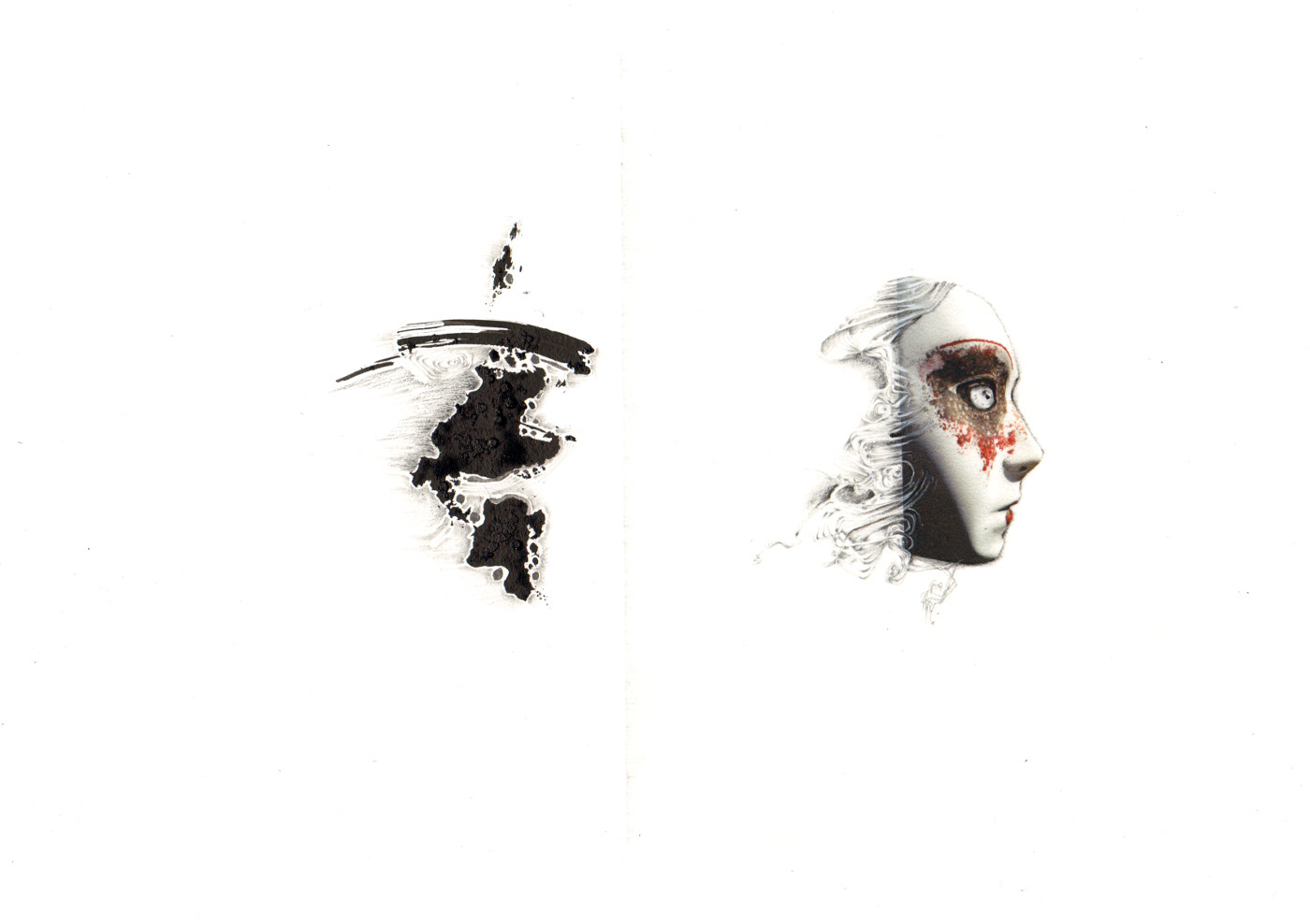 I use these masks & drawings as "Profile pics" on Facebook and other social networks …
Drawing, photography, resin, painting, digital art …
Follow my work in progress here : http://tamarkasparianmasks.tumblr.com/

First created by game, these masks are now rooted in me and became what I see from myself in the mirror, the screen has become my mirror.
"Mirror mirror on the wall, tell me who is the most beautiful? ... The one you create ... "... Which side of the mirror?, The Queen Mother of Snow White, Alice and Tommy ... * What side of the mask?, ** Bleach ..
There is in my subconscious no mismatch between reality and appearances (masks). The mask appears to be a transcript of my supernatural world in the natural world and / or my natural world into the virtual world: an
iconography of Invisible
.
What was first intended to be a form of protection of intimacy, a game and the product of an aestheticized vision became a projection of the intimate. The mask does not provide invisibility in exchange for what it conceals. It hides but also offers something else, an appearance that hides the reality but can also reveal it, sublimate and betray. Mask and anonymity are not synonymous. This enigmatic surface causes the desire for that which is hidden. Visible beauty that is offered is forsaken and the presence it covers is fascinating and becomes a magical space. An identity in perpetual flight? ... An identity in motion.
That is why  I draw movements in the eyes of the mask. It reveals the underside of the mask, the interior space and shows that it can not be defined as a substance, immutable, defined once and for all. This space is in motion, through multiple currents forces chaos.
A  moving identity more than an unified identity  ... "Turbulent Infinity", which binds this search to another series of ongoing work in my studio "L'Infini Turbulent"***  A
research haunted by chaos, a work on strengths and not limited to the search for the perfect shape of the wave.Chaos in the sense of data glut ,  of the confusion of the elements of matter, "brothel" in which I search the texture of living or rather its artistic equivalence (which calms me). The forces involved are adding a dimension of struggle, battles of the natural elements but it probably also reflects  the battles in our society, in me and my feeling of helplessness.
Hence the confrontation of these masks with the other series of drawings with collage or juxtaposition.
This series of masks (and their below or infinite turbulent / interiors) linking with this series of waves drawings and more abstract movements (infinite turbulent / outside) make me feel identity, not as a fixed sum of elements but rather as dynamic, overrun by forces, in perpetual motion, endless possibilities.
The magical space under the mask that  I reveal, offers multiple readings, potentialities, eventualities. The mask that hides, also embodies the virtuality of a life. It is no longer limited to the object, it is a possible universe.